The Rt. Rev. Mark MacDonald
National Indigenous Anglican Bishop of Canada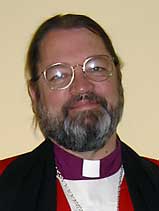 The Rt. Rev. Mark MacDonald
The Rt. Rev. Mark MacDonald was appointed the National Indigenous Anglican Bishop of Canada on January 4th, 2007. His Installation took place at General Synod in Winnipeg, June 24, 2007. He was selected by the Anglican Council of Indigenous Peoples and appointed by the Primate. He had been consecrated Alaska's VII Bishop on September 13, 1997 in Fairbanks, Alaska. In July 2006, he was appointed the pastoral bishop of the Episcopal Church of Navajoland, a position he continues to cover as the NIAB.
The Rt. Rev. Mark MacDonald, VII bishop of Alaska, was born on Jan. 15, 1954 the son of Blake and Sue Nell MacDonald. His formal education includes a B.A. degree in Religious Studies and Psychology from the College of St. Scholastica, Duluth, MN, a M.A. of Divinity Degree from Wycliffe College, Toronto, Ontario, Canada; post-graduate work at Luther-Northwestern Theological Seminary in Minneapolis, MN, Navajo Community College, Tsaile, Navajo Nation, and is presently engaged in a Doctor of Ministry programme at Church Divinity School of the Pacific, Berkeley, California.
Bishop MacDonald has had a long and varied ministry, holding positions in Mississauga, Ontario, Canada; Duluth, MN; Tomah, WI and Mauston, WI; Portland, OR; and the Southeast Regional mission of the diocese of Navajoland. Immediately prior to his ordination to the episcopate, Bishop MacDonald was Canon Missioner for Training in the Diocese of MN and vicar of St. Antipas' Church, Redby, and St. John-in-the-Wilderness Church, Red Lake, Red Lake Nation.
Presently, the bishop is on the board of The Indigenous Theological Training Institute; the board of New Directions; and is the Board Chair for Church Innovations, Inc., member of the Episcopal Council of Indian Ministries, He is also a Third Order Franciscan.
Among his published works are "Native American Youth Ministries," co-authored with Dr. Carol Hampton and published in Resource Book for Ministries with Youth and Young Adults, the Episcopal Church Center, New York, NY, 1995; "It's in the Font: Sacramental Connections between faith and environment," Soundings, July 6, 1994, Vol. 16, No. 5; A Strategy for Growth for the Episcopal Church: Joining Multiculturalism and Evangelism, Inter-Cultural Ministry Development, San Jose, CA, 1994. He co-edited The Chant of Life: Inculturation and the People of the Land (Liturgical Studies IV, The Church Publishing Company, 2002.). Articles in First Peoples Theology Journal: "The Church and the Peoples of the Land," Vol. 1, No. 1 – July 2000; "A Statement to Lambeth from the Anglican Indigenous Peoples Network, Vol. 1, No. 1 – July 2000; God's Creation: It's in the Font," Vol. 2, No. 1 – September 2001; An Interview with Steve Darden, Vol. 3, No. 1 – January 2005.
Married on Nov. 11, 1989, Mark and his wife, Virginia Sha Lynn, have three children: daughters Rose May Li (born November 15, 1991), Brenna Li (born October 23, 1993), and one son, Adrian Blake (born May 21, 2000).