Biography of Archbishop Frederick James Hiltz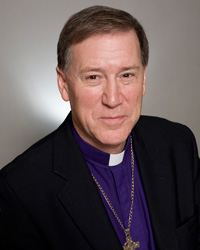 The Most Reverend Fred Hiltz
The Most Reverend Fredrick James Hiltz is the 13th Primate of the Anglican Church of Canada. Born in Dartmouth, N.S. in 1954, the Archbishop has lived most of his life by the Atlantic Ocean. Many of the churches he's served with have been within a stone's throw of the coast.
Archbishop Hiltz grew up in an Anglican family in Dartmouth, and was baptized into the church at the age of 4. Christ Church, Dartmouth, was a formative spiritual community for him, and he found role models in Bishop Leonard Hatfield, Rev. Peter MacDonald, and Rev. Emery Harris.
Archbishop Hiltz's education began with a Bachelor of Science degree from Dalhousie University, where he focused on biology. He then addressed a long-time call to ministry by pursuing a Masters of Divinity at the Atlantic School of Theology.
It was as a young seminary student that Archbishop Hiltz met his future wife, Lynne Samways of Halifax. They met while attending Christ Church, Dartmouth, and as his wife recalls—with some amusement—their first date was to a church potluck.
After being ordained in1978, Archbishop Hiltz ministered in small Nova Scotian communities, including Sydney, Melford-Guysborough, and Timberlea-Lakeside. This is where he cultivated his love for parish ministry, specifically for supporting people in times of difficulty and celebration.
From 1984 to 1988 the Archbishop served as assistant priest at the Cathedral Church of All Saints, Halifax. In addition to his regular pastoral duties at the cathedral he also organized major diocesan events, including synods, ordinations, and ecumenical gatherings.
During these postings, Archbishop Hiltz served on several diocesan committees and the diocesan council. From 1987 to 1988 he also served as director of the Anglican Formation Program at the Atlantic School of Theology. In 1988 he was appointed as rector of the historic St. John's Anglican Church in Lunenburg.
In 1995, Archbishop Hiltz was elected suffragan bishop of the diocese of Nova Scotia and Prince Edward Island. He was elected diocesan bishop in 2002.
In July 2007, the General Synod, meeting in Winnipeg, elected him Primate to succeed the 12th Primate, Archbishop Andrew Hutchison who retired.
As chief pastor of the Anglican Church of Canada, Archbishop Hiltz takes great joy in visiting what he calls "our beloved church." He enjoys spending time with parishes and dioceses across Canada and supporting ministry on the ground. He is also committed to supporting the work of bishops and walking along side them during challenging times.
Archbishop Hiltz is also passionate about cultivating Anglican-Lutheran relations, both in Canada and internationally. This interest first arose during parish ministry in Lunenburg, a town with a substantial German Lutheran population. Since 2006, Archbishop Hiltz has co-chaired the Anglican-Lutheran International Commission. Now as Primate, he actively works with the Evangelical Lutheran Church in Canada, a full communion partner of the Anglican Church of Canada. Susan Johnson, the current National Bishop of the ELCIC, was elected to office the same week as Archbishop Hiltz, also in Winnipeg. They have cultivated a close relationship since then.
In January 2008, Archbishop Hiltz took on an active role in the Primate's World Relief and Development Fund (PWRDF), when he became the first Primate to be elected president of its board. He is committed to promoting this Anglican social justice and development organization, which he believes is a witness to Christ's compassion.
In his spare time, Archbishop Hiltz enjoys caring for animals, particularly his two Labrador retrievers, Brie and Joey, and his cat, Sonny—all of which made the move from Halifax to Toronto. Vacations often take the Hiltzes back to the ocean, where they find peace by walking along the beach.
Archbishop Hiltz and Lynne Samways-Hiltz have one son, Nathan, a Humber College-trained jazz guitarist who has lived in Toronto since 1999.