The Rt. Rev. Dr. David Giuliano
39th Moderator (2006-2009)
The United Church of Canada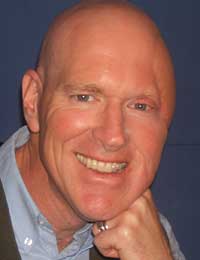 The Rt. Rev. Dr. David Giuliano
David Giuliano was born May 16, 1960, and was ordained in 1987 by London Conference. Until he was elected Moderator in August 2006, Giuliano served St. John's Pastoral Charge in Marathon, where he had been settled in 1987.
When asked to describe himself, Giuliano replies, "I am a descendant of deeply faithful Southern Ontario Quakers, born-again Baptists, and Italian-American immigrant Catholics. I am a child of The United Church of Canada. I am a father, husband, friend, and pastor. I am a creative spirit, a sensitive man who has always wept more easily than I would like. Then, I laugh easily too. I am deeply connected to the earth, the sky, and the water in a particular place on the north shore of Lake Superior. I am tainted down to my DNA with a Godly dream for creation that will not let me go. Above all, I am a disciple of the Way of the Christ."
In Marathon, Giuliano was active in community development. He was the founding chairperson of several groups: a regional Restorative Justice Program; the Community Collective, a food bank/thrift store co-operative; the School Community Council; and the Four Colours Anti-Racism Committee. He was co-chair of the municipal Community Development Committee and chair of the Marathon Sick Children's Fund.
Earlier in life, he worked for the University of Guelph as the human rights commissioner, a conference co-ordinator, and as a residence manager. In 1980, he and his wife, Pearl, spent four months volunteering at a vocational school and making friends in Cap Haïtien, Haiti.
Giuliano describes himself as a continuous learner. His degrees include Bachelor of Arts, Master of Divinity, Master of Theology, and Master of Science in Adult and Experiential Learning. He has completed a year of Clinical Pastoral Education, Ministry of Supervision training, and a certificate in Spiritual Direction. In 2006, Giuliano completed a certificate in Expressive Arts from Fleming College in Haliburton, Ontario. Presently, he is a member of a Peer Learning Group through Columbia Seminary in Atlanta, Georgia. He was recently honoured with a Doctor of Divinity from Huntington University in Sudbury, Ontario.
He has also taught with the Ontario Jubilee Program for Spiritual Direction and led courses on biblical spirituality and on the gospel for the In-Community Program for Ordination.
Giuliano has given testimony to the hope that is in him as a Conference theme speaker and as a Celebration of Ministries preacher. He has also been a presenter at the Ocean Park Maine Chautauqua, at Epiphany Explorations, and at the Biidaaban Healing Lodge in Pic River First Nation, among others.
More than 50 pieces of Giuliano's writing and poetry have appeared in publications including The United Church Observer, PMC: the Practice of Ministry in Canada, Clergy Journal, Exchange, Gathering, and Presence. For five years he wrote a column in the Marathon Mercury. Giuliano enjoys Nordic skiing, kayaking, biking, and running the bush trails along Lake Superior.
Pearl and David have been together since he was 15, when they met at their United Church youth group in Windsor, Ontario. They have two children, Jeremiah (20) and Naomi (18).